SERIAL PORT INTERFACE KW909 SPI
DATA CONVERSION INTERFACE KW909 SPI
The KW909 is programmed to read in data in one format and output in another format.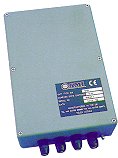 IN. Serial data 300 to 38400 baud
OUT. NMEA 0183 compatible sentence
USE:

| | |
| --- | --- |
| | Convert AUTRONICA alarm system data |
| | Pizzorno engine telegraph |
| | Engine room data |
| | Hull stress monitor data |
The application is to convert (generally) NMEA 0183 data output from one piece of equipment into a data format which is understood by a second piece of equipment. This include converting data received in formats ranging from perfect to garbage. You name it, it can be converted.
EXAMPLE 1. An example was the fitting of a new GPS on a tanker, but the chart plotting system and radar would not accept the data. Tests showed that the lat/lon was only accepted with two places of decimals. The interface is programmed to deliver the data required. The arpa and plotter now use the gps data. RECSIM NMEA 0183 simulator software is ideal.
EXAMPLE 2. A Yokogawa Autopilot would not accept the data delivered by a Transmitting Magnetic Compass system. Tests showed the data not to be what was required. The interface was programmed to decode the data coming from the TMC and output correct Yokogawa data to the autopilot. The ship now steers from the TMC.
EXAMPLE 3. Some radars would not accept $HEHDT gyro data. The interface converts that to $HCHCC "magnetic" data and the radars now respond.
EXAMPLE 4. Robertson SKR82 data is converted to NMEA 0183, and the reverse. This enabled the interfacing of more bridge electronics.
EXAMPLE 5. Shift the GPS datum to local chart datum
If you have a new requirement just dial for action!
INPUT:

| | |
| --- | --- |
| | NMEA 0183 or other serial data. |
| | SERIAL PORT, variable rate. RS232, RS422, AND CURRENT LOOP |

OUTPUT:

| | |
| --- | --- |
| | NMEA 0183 5v level, 5 mA, RS422 and RS232 compatible. |

POWER ETC:

| | |
| --- | --- |
| | 9 to 30 v DC at 100 mA. |
| | 222 x 155 x 55 mm grey diecast box |
| | LEDs on input, output, and bi-colour status LED. |

DATA SHEET
ADITEL MARINE ELECTRONICS

UK.

Tel / fax
44 (0) 1873 840405
Fax:
44 (0) 1873 840106
AMI
44 (0) 2380 480450
E-mail: