NMEA 0183 to 0182 INTERFACE model KW909 SPI
| | |
| --- | --- |
| | IN, NMEA 0183 |
| | OUT NMEA 0182 |
We have not made this interface for many years, but keep it on line as an example of what we do.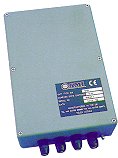 NMEA 0180 and 0182 protocol was introduced in the early 1980s to allow Loran C to control autopilots. The standard is now replaced with 0183.
The interface allows a modern GPS or ECDIS system to control an existing 0182 compatible autopilot. It inputs NMEA 0183 and outputs NMEA 0182.
The unit is a grey box with no user controls. Facilities are provided to make it easy to prove and test a system.
| | |
| --- | --- |
| | INPUT: NMEA 0183 port. Sentences input should contain the necessary data. (Cross track, bearing to destination, position. Example GPRMC, GPGGA, GPRMB) |
| | |
| --- | --- |
| | OUTPUT: NMEA 0182 sentence. 2 second rate. 5v level CMOS limited by 47 ohms, 5 mA loading. Data common with DC input 0v. |
| | OUTPUT: NMEA 0183, RS422 and RS232 compatible port for test purposes. Sentences: $GPGLL, $GPVTG, $GPAPB. 2 second rate. 5v CMOS via 47 ohms. 5 mA loading. Referenced to DC input 0v. |
| | POWER: 9 to 32 volts at 200 mA. |
| | HOUSING: 222 x 155 x 55 grey aluminium box for bulkhead mounting. |
| | FEATURES: LEDS on essential inputs and outputs. |
| | Power and program watchdog restart circuit. |
| | Switched allow data output to be simulated, tested and read on a PC. |
ADITEL MARINE ELECTRONICS
Tel / fax
44 (0) 1873 840405
Fax:
44 (0) 1873 840106
AMI
44 (0) 2380 480450
E-mail:
Andrew Fairgrieve af-aditel@btinternet.com