RADIO CONTROLLED TARGET BOAT SYSTEM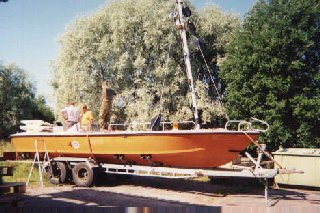 4 fast sea going craft of the Finland defence forces.... Applications include target towing, surveillance, minesweeping, survey. The cost of this system is moderate because we use so many commercial off-the-shelf items. The electronic fit on the boat includes an autopilot, engine control and instrumentation, and differential GPS.
The picture shows the boat with Kari Soini of Navidec in the cockpit. The boat can be used with local control at the flick of a switch.
For model boat enthusiasts! This does 25 knots to 25 miles range!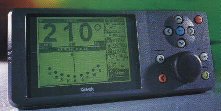 THE CONCEPT
A ship may be fitted with an autopilot with dual control stations, capable of being controlled by a PC chart plotter. The concept of the target boat systems is that one of the autopilot control stations, and the plotter, is taken ashore, and the previous wire link replaced by radio. (If only is WAS that easy!!)
The electronics unit ashore consists of a PC running Transas Navisailor plotting program, and the Cetrek 725 Propilot control unit. Along with that are pushbuttons for controlling the engine and some other functions.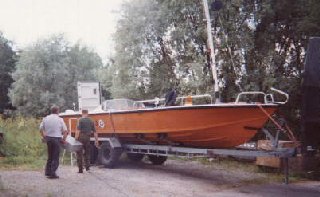 CONTROL UNIT:
The control unit is built into a suitcase sized housing.
The picture shows the control unit being carried out to the boat for transport. The operator ashore steers the boat using the autopilot in the portable control unit, but can select automatic steering by the computer, and this is the normal way of steering. Routes are laid out on the chart plotter and the target boat steers down them with wonderful accuracy. Visual sighting of the boat is not necessary.
The system has fail safe features, and the boat will stop if it loses radio contact if it goes out of radio range. The control console is portable, and may be used ashore or from another ship.
The system reports radio link quality by leds and buzzer. Ranges depending on the radio link, but VHF range of 50 Km is quite possible.

AUTOPILOT: Cetrek 725. Features: Manual steering. Autopilot steer to course. Nav-mode, steering on the track advised by chart plotter PC program.
CHART PLOTTER: PC of choice. Transas Navisailor plotting software. Features colour charts, route planning and steering to track to control autopilot.
Check Transas Web Site for charts and info.
SHORE CONTROL CONSOLE

| | |
| --- | --- |
| | Engine: Start, stop, increase, decrease, preset to planing speed. |
| | Manual steer: port or starboard rudder. |
| | Tow: tow wire in/out. |
| | Options: examples, camera, horn... 16 switches available |

16 systems on the boat operate 16 LEDS on the console.

| | |
| --- | --- |
| | Radio status. |
| | fuel consumed analogue meter |

OTHER EQUIPMENT:

| | |
| --- | --- |
| | DGPS on boat. |
| | Facility for echosounder, wind, fuel status etc. |
| | This data is sent ashore for display on the control console. |

CONTROL INTERFACES:

| | |
| --- | --- |
| | Identical single pcb ashore and afloat control the system. |
| | Fitted with VHF radio modules, 10 watts. |
| | 3 microprocessors per pcb for radio, autopilot and gps/plotter control. |
| | Power fail, brownout and program fail restart watchdog chip. |
| | All for nominal 12v DC supply. |